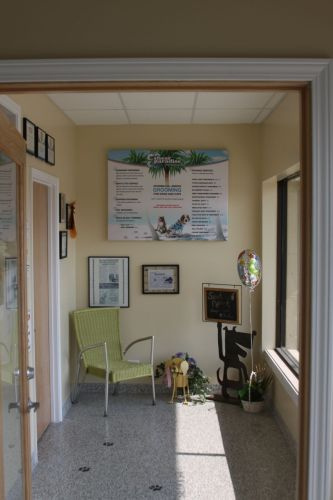 We opened our doors in the summer of 2004 to offer a full service dog grooming salon located in downtown Mundelein. We guarantee excellent service, experienced grooming in a clean, friendly, cage-less environment.

We pride ourselves in caring for your pets. Regular grooming includes a premium bath, forced air blow drying, inspection of coat and skin condition, thorough brushing, toe-nail clipping, ear cleaning and any trimming or hair cut style desired. Shear Paradise also offers additional services to help promote good health and pampering; aromatherapy treatments, deep coat conditioning, teeth brushing, medicated baths and our Shed-Less treatments. To learn more click on our SERVICES PAGE.

Being a cage-free environment allows dogs the freedom to romp around and socialize with other dogs which helps promote a fun grooming experience! Dogs have access to fresh water, treats, toys, beds and many hugs and kisses! It's especially easy for older or arthritic pets not being cooped up in a cage all day because they lounge in plush beds and stretch their legs as needed. Don't worry, safety is our priority and we do have private areas or cages for dogs that cannot play well with others or for pets who want some privacy!

"We cater to each pet's individual needs. Dogs are welcome to spend the day with us, or for special needs pets, express grooming is available," says owner Claudia Kawalec.

"I treat all of my clients as if they were my own pets!" says Claudia. "My passion is working with animals and giving them to best care possible."